Sizes
Diagonal Measurement of the Screen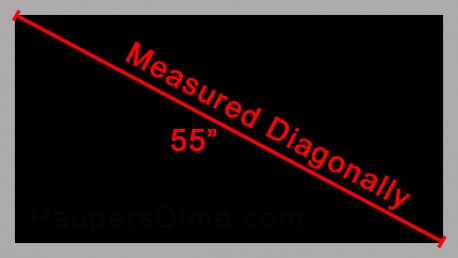 Panel Type a.k.a LCD vs Plasma or LED vs Plasma
Samsung now has three major panel types, OLED, LCD, and Plasma. I could write for pages on the difference between these technologies, but many others have done this elsewhere very well. I will quickly hit the major differences as an overview.
OLED – This is the best technology and will eventually overtake both plasma and LCD in the coming years. For now, the first products are coming to market, and I wouldn't recommend being a paying tester. You may want to wait until this technology matures before purchasing this technology in the television format. That being said, Samsung has achieved fantastic results with OLED displays in tablets and mobile phones, so they have a very good chance of leading the market in manufacturing high quality OLED televisions.
LCD – Whether a TV is labeled as an "LED" or "LCD" panel, the technology is identical. I will discuss the difference in lighting shortly. With this type of display, very tiny filters turn on and off to allow light through with a colored tint. By combining clusters of red, green, and blue filters with varying intensities, the entire gamut of colors can be displayed.
Plasma – A plasma screen is made up of millions of tiny, colored light bulbs. In clusters of red, green, and blue, the bulbs are individually turned on and off with a dimmer to produce an incredible array of colors when seen from a distance (if you look closely, each individual colored dot is visible). Each bulb only consumes power and emits light when it is turned on, so this panel can get dark blacks and great response times.
Panel Lighting
There are four primary types of lighting currently used in Samsung televisions. Samsung phased out the fluorescent backlight several years ago, and they do not currently produce a television with a true LED array with real local dimming (the solution providing the best picture quality).
OLED – In an organic light emitting diode, each pixel gives off its own light when it is activated.
LED – Small light emitting diodes (same technology as an LED flashlight)
| | | | | |
| --- | --- | --- | --- | --- |
| | OLED | Edge-Lit LED | Sparse Array of LEDs | Plasma |
| Light Source | Each OLED emits colored light. | White Light Emitting Diodes | White Light Emitting Diodes | Each plasma cell emits colored light. |
| Contrast & Dark Levels | Nearly Infinite (Fantastic) | Good | Acceptable | Great! (Better than LED but not quite as good as OLED) |
| Layout | Each dot is self-sufficient. | The light source is spread around the edge of the display. The light is channeled behind the LCD panel using light spreaders. | The LEDs are placed behind the LCD panel, but they are spread out and few as a cost saving measure. | Each pixel is self-sufficient. |
Micro-Dimming plays an important role with LED backlights. Though Samsung does not offer this, the best option is to place LEDs behind the LCD panel and dim them when their segment of the screen is darker. Samsung has opted to instead go with edge illumination which still works very well, but local dimming must be accomplished by dimming the LEDs along the outer edge of the display that are then channeled behind the LCD panel. Micro/Local dimming is not necessary to achieve great black levels and contrast on OLED or plasma displays.
Maximum Resolution
This represents the number of dots that the television can display.
There are many conflicting views whether you need to buy a television with 1920×1080 pixels. Some suggest you should buy screens with more (which are very hard to find), and many say that they can't tell the difference from a screen with 1280×720 pixels. If you are buying a television that you want to use for several years, buy one with 1920×1080 resolution and don't think twice about it.
These resolutions are often called 1080p and 720p. The "p" simply indicates that the whole image is displayed each time the screen refreshes. In some televisions, only half the screen is updated each time (this is becoming uncommon). 1080p = 1920×1080 & 720p = 1280×720
"Dynamic" Contrast
This refers to how bright the brightest pixels are compared to the darkest in the screen. You will notice that I didn't assign "good" or "bad" ratings to these characteristics, and I did this because these numbers have become more of a marketing gimmick than a real measurement. When analysts perform measurements in controlled settings using universal standards, the outcomes don't come anywhere near the advertised values. Now that the manufacturers have compromised their integrity in reporting these values, I won't acknowledge them as an important feature.
User Upgradable
Samsung has recently released a system called "Smart Evolution." Depending on how they choose to implement this user-upgradable computer system, it might be one of the best things to happen to televisions. Unfortunately, it is too early to tell how they will execute on their marketing.
In theory, the brains of a television become outdated long before the display panel itself. In response, Samsung has decided that they will allow their customers to buy faster computers that go in the televisions to process the most recent codecs (video formats) and software. Though the upgrades won't be inexpensive, they will give more life to the television. You should note that features like the refresh rate of the panel, resolution of the display, and type of lighting cannot be changed.
This feature will become more important once the H.265 standard is released for compressed video. Smart TV's purchased in this generation with the "Smart Evolution" feature will be unable to play these videos. Considering how important the H.264 standard has been (it's the backbone of many other video formats), this upgrade should be worth the investment.
HDMI Audio/Video Inputs
You will need these connections to connect you Blu-Ray Player or your computer to the television. HDMI is a very important multimedia transfer format that you will want to use to achieve the best performance from you new television. This format simultaneously transmits both audio and video, and it can handle many special features such as 3D video. Another cool feature is that remote control commands can be transmitted over HDMI, so you can use one remote to control the volume on your TV and your Blu-Ray.
Component Video Inputs
Component video is capable of transmitting HD quality signal, but it lacks the capability to carry 3D video, remote control commands, protected video, or audio.
Computer VGA Input
The standard computer monitor connection that you may use on your laptop to connect with an external monitor or projector is no longer offered on Samsung televisions. Instead, you will need to connect your computer to the HDMI port.
3.5mm Audio Input
If you would like to play music through your TV, you can play audio using a standard two ended 3.5mm audio cable (the same jack that you use for the AUX port in your car or on your MP3 player).
USB 2 Plugs
By incorporating a USB interface, the models that are "Smart" can read USB hard drives and flash drives to play movies and display pictures. You can select folders on the USB drive using your remote and play multimedia files.
On TV's without built-in wifi, you can install the Wi-Fi adapter with the USB port. If you want to use the Plug & Access feature to connect your TV to your wireless network, you can plug the flash drive into one of the USB ports.
If your Smart TV is not connected to the internet, you can use the USB port to upgrade the firmware on the TV's onboard computer.
Note: The manual indicates that you can only connect two USB mass storage devices (flash drives, hard drives, or other peripherals that can act as a USB drive) at once.
Digital Audio (Optical) Inputs
If you have a home theater system, you may want to use the optical interface to play music without compromising the quality of digital audio. Some home theater systems now take audio directly from running the HDMI connection through the receiver. If you are interested in using an external home theater system to get the best audio quality out of Blu-Rays, consider buying a receiver that also plays Blu-Rays and can directly decode the digital audio.
Stand Swivel
If you would like to rotate your television right and left on its stand, you will want a stand that can swivel. You won't be able to lean the television toward or away, only right or left. If you are planning to use a wall mount, the stand won't make any difference as you won't be attaching it.
Smart TV
For some this is the most important feature, and for others this doesn't make any difference. Here's a quick breakdown:
Buy a Smart TV
You want a high end display. In Samsung's lineup, all of the best displays incorporate Smart TV functionality.
Watch online streaming content without an external device.
Use your television as a photo slideshow.
Watch Netflix, Hulu, or one of the other services with a paid subscription (Hulu isn't free on a Smart TV).
Don't Need a Smart TV
You plan to connect a Blu-Ray player that can connect to the internet and do all the same functions.
You plan to connect a computer. If you want to build internet functionality into your entertainment center, this method is far more effective than using a Smart TV or a Blu-Ray player. For example, you can access Hulu for free on a computer, but not on a Smart TV.
You aren't interested in online content.
This TV is used for watching cable or satellite TV.
3D Capable
There are two types of 3D display, active and passive. In a passive display, every other line on the screen sent to the other eye using polarized light. This is the way movie theaters project 3D movies, but on a home TV, it effectively halves the resolution. Fortunately, there's a higher-tech solution.
Samsung and the other leading brands use active shutter glasses to provide a full HD 3D picture. In order to accomplish this, frames have to be displayed twice as fast, and every other image goes between eyes. This means that you only get half the frames to represent motion, and this makes the refresh rate twice as important.
To be straightforward, I don't like current 3D technology, and I don't enjoy watching 3D movies on my Samsung TV. I find that watching a 3D movie wearing the active shutter glasses for too long gives me a very mild headache, and there's not a lot of good 3D content available. Given my somewhat negative impressions of the 3D functionality, is there any way I could still recommend buying a 3D television? Actually, yes, I do! I strongly recommend that if you are buying a television that you intend to use for several years, you buy one that can display 3D content.
Even though there isn't much 3D content available now, there's going to be much more soon, and you'll regret not being able to view it. As 3D becomes more standard, it will become better. Instead of buying a new TV once 3D gets better, you may want to have your current TV last longer. The incremental costs are fairly small now, and it's worth spending a few extra for the capability.
Refresh Rate
This is one of the most important features of a display. With a low refresh rate, motion will be jittery, and your experience watching fast paced events such as sports will be negatively affected.
Because refresh rates are so important, manufacturers very frequently lie about their performance and make up their own measures. For Samsung, they crafted the "Clear Motion Rate" to make their refresh rates seem higher than they actually are. The comparison table here show the actual refresh rates.
For me, this factor gives enormous benefits to plasma displays as they have almost no trouble. The 600 Hz rating refers to a "sub-field drive" rate. When displaying an image on a plasma screen, the actual burst lasts a very, very short time. If only the frames generated by the source (such as a Blu-Ray) were displayed, the screen would strobe. Because the image is displayed for such a short time, the screen would actually appear to be very dim because it would be off most of the time. To compensate, the same frame is flashed multiple times to keep the screen illuminated. This has the benefits of making the screen brighter and makes motion smoother.
As a rule of thumb, you should either buy an LED LCD display with a refresh rate of 240 Hz or a plasma screen. If you aren't interested in spending the extra money for one of the high end LED LCD TVs (or you don't need a super-thin screen), I would recommend buying a plasma instead. This is counter to Samsung marketing materials that make the LED TVs seem better overall, but that's not the case. If displaying motion very clearly matters to you, buy a plasma display, and you won't regret it.
Glare Reduction
If you've ever tried to read the screen on a touch-screen cell phone when it's too bright outside, you've seen how glare looks on a reflective screen. The same effect can occur on television screens when there are lights on in a room or there is a window open. To combat this effect, manufacturers apply coatings to reduce the reflectiveness on the screen while attempting to minimally impact the brightness and clarity of the image.
Auto Brightness
A sensor on the TV monitors the amount of light in the room and turns the display brightness up and down to compensate. Fortunately, this effect can be disabled. As this feature isn't very helpful most of the time (and can become irritating), I consider it one of the least important features.
Sound Effect System
When selling a TV, manufacturers want to convince customers that they will get a rich sound experience out of the tiny speakers on the back of the TV. To make this more plausible, they install software on the TV that makes the sound seem deeper and richer. From a consumer's perspective, there's nothing wrong with this, and it will make the speakers sound better on your TV. For most customers, the built-in speakers are very adequate, but don't let marketing claims that with the right software the TV can pipe out full surround sound.
Sound Output (RMS)
The 2 included 10w glorified computer speakers are very adequate. Don't expect action movies to shake the couch, but you should get a solid experience without buying other audio equipment. You can always add a home theater system after you buy the TV.
Wi-Fi
For a Smart TV to display online content, it needs to connect to the internet over your network. You can connect to your network over either a wireless Wi-Fi network or a wired Ethernet network.
If you are permanently mounting the television, I would strongly recommend running a wired Ethernet connection to your TV. You will never have to worry about signal strength or other users on the network bogging down your wireless router. Wi-Fi can consistently stream quality HD video, but Ethernet is more reliable. If you do decide to use Wi-Fi to stream video, you will want to upgrade your wireless router, and position the TV close to the router. Even though you can still get a signal, wireless network speeds drop off as you get further from the wireless router. Even if you have the fastest internet connection available, you might not have a fast enough connection if the TV is too far from your router.
Web Browser
If you want to surf the web on your TV, this feature is necessary to view anything not offered as one of Samsung's sanctioned apps (very few of the Samsung apps aren't junk).
If you are hoping to use the web browser like a netbook or extra computer, you should probably buy a less expensive TV and an entry-level netbook instead. The web browser leaves much to be desired (remember how your flip phone advertised having internet access too?), and the interface is poor enough that you would probably rather just use your smartphone anyway.
Allshare DLNA
DLNA is a very common method for sharing media on a network. This means that your TV will be able to connect to computers on your home network and play streaming media. This feature is great if you have a lot of content downloaded to your computer.
Dual Core Processor
A dual core processor will increase the computing power on your TV, but it doesn't double it. By incorporating two processors on the same chip, your TV will be better at multi-tasking. As "smart" electronics are very dependent on their small computing chips, you'll want any extra power you can get.
Skype
The TV comes with video conferencing capabilities built in. Some models have a camera built in, but you have to buy an adapter for some of the other models that are compatible. If you spend a lot of time conferencing on Skype, this is a great feature to have. By using your TV instead of your laptop, you can have a much more natural conversation.
Interaction & Infrared
These features are very cool on paper, but they are completely impractical in real life. This feature seems a lot like a "me too" feature as video games begin to incorporate more gestures into their experience. It seems like a cool idea and perhaps even more convenient, but don't make these features a deciding factor unless you are willing to settle for an unpredictable "smart" TV. Once the coolness wears off, you'll likely be using the standard remote soon.
Built-in Camera
If you are interested in video conferencing, having a built-in camera will make this much easier! You can also buy a camera add-on if your TV doesn't come with one included.
Pairs of 3D Glasses
These are "free" active shutter glasses that come with your TV. They aren't really "free" of course, but marketing would like you to think they are. The truth is that the prices on the glasses are still getting lower, and you can find deals if you watch for them. If you get a 3D capable TV, don't upgrade models just to get more glasses. You may feel like you are spending more if you buy additional glasses later instead of getting them "free," but you're better off buying them only as you need them.
Wireless Keyboard Compatible
If you are very drawn to the handicapped browser in the high-end Smart TVs, you will want to have a handicapped keyboard to use with it.
Remote
Samsung offers a standard remote and a "smart" remote. You'll be fine with either one.
A Note on the "Smart Interaction" Features
At the high end of the range, all the manufactures pile on features to attract buyers from their competitors whether these features add any value or not. Save yourself a marketing headache and ignore all the hand waving gestures and voice recognition. The only "smart" features that matter are the apps for Netflix, Vimeo, etc, and the rest are hype. Save your money and buy a television with the exact same panel display at a lower price.
I would be grateful if you would consider making your purchase through one of the links on this page. You'll pay the same price, and you can help me make a guide for your next purchase!