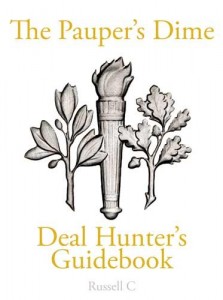 I decided to start building this resource when friends started asking how to buy instead of just what to buy.  These questions are equally important in determining your quality of life, but most people just ask what to buy then do a simple web search before punching in their credit card.  There is an art to shopping intelligently, and it's good to take an art class or two.  This article is just an introduction, but I think it should provide you with a solid framework for thinking about deals.
Caution: This is not a short article, but it could save you lots of money.  If you read it in the next ten minutes, we'll include saving you from future headaches at no additional charge…
The key to getting good deals is patience.
How long you're going to have to wait typically depends on how big of a deal you're looking to get.  You're only in a good bargaining position if you're actually in a position to bargain meaning that you have time, choices, and a willingness to stick to your guns.  If you're hoping to save 15% off retail, you might have luck digging around the internet for a coupon code, and typically you're already saving 6-10% on sales tax by shopping online.  If you're hoping to save 50%+, expect to wait a lot longer.  I recently took two and a half months to buy a Weber grill for 60% off (seasonal liquidation through a third-party liquidator), and I spent 10 days negotiating for my Plasma HDTV to save 38% off  the local big box store's prices.  Your immediate reaction might be that you always want to save as much as possible, but I'm not sure that's completely rational.  You always need to strike a balance between your budget, what you need, and your practical constraints.
Let's first take a look at store margins.
Many specialty shops like a local furniture store have a markup of about 70-100% on big ticket items, so a 50% discount translates roughly to cost.  These stores typically have a slower moving inventory and have high costs in shipping, inventory, storage, and labor.
Big box retailers like Wal-Mart or Best Buy carry many items with razor thin discounts and even use some items like DVD's, video game systems, and food staples as loss leaders (heck, even manufacturers lose money on video game systems to gain recurring revenue).  However, other items like service plans and accessories have enormous markups.
For electronics and other very competitive markets, the markup is usually more on the order of 5-20%.  Car audio, home audio, and accessories have much higher margins.  The pricing is often pretty consistent on these items online or in store.
Remember that stocking an item, putting it on the floor, keeping the lights on, and paying employees costs a lot of money, and this applies to online and local stores (it obviously affects local stores more).  This significantly increases any retail store's costs on every item.
When stores want to move inventory, they will have a price reduction with a hope that you will buy their stock rather than buying the exact same thing from a competitor.  In the internet age of comparison shopping, consumers are very price conscious, so stores react by having sales.  Since everyone stocks the same thing, stores attempt to differentiate themselves based on convenience, price, and service (stores will focus on just one of these).  However, this doesn't universally apply to all products.  Stores like Best Buy will sell TV's at competitive prices and even allow for some negotiation on price, but they make back their margins by selling heavily marked up cables, surge protectors, service plans, and accessories.
When You Want to Save 50%+
Note: I'm not talking about clothes from department stores here.  Their prices seem to be less reliable than predicting winter with caterpillars and more variable than Zynga's stock prices.
To be honest, this is not going to happen very often, and it can actually be a red flag when it does.  Selling below cost is usually a bad business move, and they can typically move the inventory with a 25% sale anyway.
There are some items that you routinely find 50%+ off.  For example, the Meijer chain of supermarkets essentially always has a "70% Off" sale on jewelry, and deal brokers like Woot and Groupon Goods deal in half off sales (note: I'm specifically referring to Groupon Goods, a service of Groupon where the company actually sells the products itself rather than through local retailers).  These products often aren't great deals at all, and they're selling junk.  In these cases, the price is artificially inflated to create buyer urgency and interest.  Let's take an example of a table set recently offered by Groupon Goods.
I hope that if you're a savvy enough consumer to be reading this site, you wouldn't fathom spending $1,100 on a no-name table set with fiberboard tops and cheap metal frames.  They even look cheap in the marketing photo!  These "deals" certainly look exciting in your inbox, but is it really a deal… even at $210?  The truth is that no one would consider buying this junk if they said it was $199 (a $300 Value).  They would laugh that someone would pay $100 for each of those tables, but if they say it's a $1,097 value, it almost seems more believable because surely no marketer would lie by that much!  It's all in the psychology of modern mass marketing.  Think about it, they are not losing money on this deal, so you can practically guess the product's actual "value."  Their cost is probably in the $100 range, and I would guess they're making a fantastic margin.
With the exception of deliberate inflations, retailers typically offer something for more than half off if they are trying to clear inventory for a new season or model.  If you're buying lights and trinkets at an After Christmas sale, you're probably fine.  However, if you're trying to buy something more significant like a television, read your reviews carefully before you buy something at 50%+ off.  Like I said before, a 20% discount on many products will move inventory, and a more significant discount means that they're trying to move really stubborn inventory.  Take the example of the HP TouchPad.  Nationally, no one bought them until HP decided to have a massive firesale and take huge losses.  A lot of people thought it seemed like a great idea to buy one (and it probably was for a few of them), but make sure you know what you're doing before you spend anything on stuff that most people wouldn't buy even for what it costs the manufacturer to actually make it.  The point of this website is not to help you buy junk for less money; it's to help you make your dollar go further on buying quality goods.
If you've survived my caveats to deep discounting, then you're prepared to handle buying at large markdowns.  Here's a rundown:
Many large retailers will offload inventory to liquidators for pennies on the dollar to clear their warehouses.  These goods are often sold at auctions, and you can find good deals if you're careful.  Note: I'm not talking about Overstock.com.  I'm talking about liquidators who move goods by the pallet or large lot, and many of their items are store returns or "scratch and dents."  This is how I purchased an expensive Weber grill recently for 60% off.
Most products expensive enough to warrant waiting to buy have four prices:

Manufacturer's Suggested Retail Price (A number usually determined using lottery balls, dice, and alcohol)
The Store's Price (The amount printed on the obnoxious card on the store's shelf that also has all the fine print numbers)
The Minimum Advertised Price (This is the price that manufacturers actually suggest when you think about it.  Retail stores aren't allowed to print a price below this number.)
The Store's Cost (This is the manufacturer's price that they sell it to the store/distributor for.)
If you consider this new set of store "costs," you can sometimes find yourself a deal.  There is no law that says a store can't sell you something for less than their minimum advertised price; they just can't advertise it.  If you look for these deals, you can often find them with enough patience, but don't expect it to be easy.  When I recently purchased a large plasma TV, I scoured listings all across the country and finally settled on a business in California with a Better Business Bureau rating of C+ (typically a bad move) and spent ten days in negotiations with a salesman and had daily offers and counteroffers.  I achieved a tremendous savings all things considered, but it was still only 38% off retail price – that's not even enough to fall in the 50%+ range we're talking about here.  If this sounds scary to you, then you're probably safer in the next category.
When You Want to Save 25-50%
I like to think of this as the sweet spot for getting good deals.  You can find savings in this range within a reasonable time period, and it's a reasonable expectation to hope for these discounts from a retailer.  Goods discounted by 25-50% are typically found during special sales like Black Friday or with special promotional offers like a loyalty rewards coupon.  Reputable websites like Amazon will often sell goods through their "Goldbox" promotions in this range, and their book selection often can be found for 30%+ off cover price.  Once again, patience is an important factor here.  If you're willing to keep your eyes open for deals, you can often find that what you're looking for will go on a great sale somewhere within the next few months (the wait can be painful, and it really depends on whether you're saving enough money to make it worth the wait – more on this later).
If you're willing to negotiate on prices (it's not as scary as you think), you can often find savings of 25-50% without too much trouble.  I have a formula for price negotiation that I have found to be pretty reliable.
Russell's Three Tiered Negotiation Gambit
Find the lowest online price from a semi-reputable looking retailer.  Make sure the product is currently in stock and jot down the current price, shipping price, company, and the address where you can find it again (if you know how, take a screenshot or make a PDF of this page).  Don't just do a Google Shopping search for this one.  Use several price comparison services and look at the marketplace sellers on Amazon/Sears/eBay.  You're looking for a real company with a great online price, and it's best if you can find a rebel with a price below the minimum advertised price.  You can try contacting this source for a yet lower offer, but I haven't found this to be particularly effective.
Take this price to a reputable, national retailer with a generous price-matching guarantee.   Send them an email and request them to price match the lowest online price you found.  Then copy and paste this email to another half dozen prominent retailers that offer price-matching.  Email is preferable because you can get the offer in writing.  You can try sending these emails sequentially to shave a little off each time, but this won't really generate better results.
Take the best offer from the price-match tier to whatever store is the most convenient for you.  If possible, try to engage locally owned businesses at this stage.  I know it's hard for them to compete with online retailers, but your goal isn't necessarily to get them to match this price.  The rock bottom price you found is valuable as a negotiation starting point.  There are countless advantages to supporting locally owned businesses, and it might be worth spending a little more to have local support or a place to return it.  You can also bring your offer to local big box stores (they have more leeway to negotiate than you would think).  Negotiation is much easier when you can show the salesman an offer in writing.
Your purchase can now be much more informed, and you can place your order with whichever retailer offered you the best balance of price and convenience (and you'll have at least a half dozen to choose from).  Sometimes this will be an online store and sometimes this will be the shop down the street.  Either way, it's a lot easier than listening to loud Queen music in the car and running in to take on a salesman with only your wits to protect you.
I have found this approach to be very reliable, and there are a number of advantages to working through my three tiers.  First, you can buy from a retailer at any of the three stages – this competitive bidding process is fair because you can buy from whoever gives you the best deal (which isn't necessarily the lowest price).  It's also advantageous because you're doing the hardest part of the negotiation fairly painlessly – finding the lowest price just takes some time on the internet, and you can email a half dozen stores asking for a price match using copy and paste.  By the time you talk to someone on the phone or face-to-face, you have a firm foundation to stand on.  Remember, you should always have real options when you're negotiating, and doing it this will give you all the ammo you need.
When You Shouldn't Worry About Finding a Deal
When You're Spending a Dollar to Save a Dime
I strongly believe in making intelligent buying decisions, and this means much more than getting the lowest price and avoiding sales tax.  To consistently make good decisions, you need to be very calculated.  Let's start with an example:
You want to buy a cool pair of sunglasses that are available at the Sunglass Hut for $50, and your goal is to save 25% on your purchase.
I need to save $____ on this purchase.
If you answered $12.50, you're a winner!
Now, let's say your time is worth $15/hour.
I make $12.50 in ___ minutes.
You should have calculated 50 minutes.  This means that if you spend an hour trying to find a deal, you're actually spending more on the sunglasses than if you had bought them last time you went to the mall, and now you have to make a 40 minute round-trip to go back to the mall and buy the sunglasses.  This is very important to think about when you're considering a buying decision.  As a rule of thumb, you should spend more time on large purchases or purchases where you think you can get a major discount without unreasonable difficulty.  Otherwise, you might actually be spending more.  If you don't value your time, then who will?
As a point of introspection, this is an area where I perform very poorly.  I've spent $10 worth of time to save $5 so many times that I decided it was best that I start sharing what I find here.  Now that I'm saving lots of people money, it adds another variable to the equation that semi-justifies my research time!
When You Need It Now
My wife recently went on a trip and needed an additional battery for her digital camera.  We didn't realize her battery constraint until the evening before her flight, and I found that the local Best Buy happened to stock the battery.  Here's the breakdown: $60 + Sales Tax at Best Buy vs. $40 at Amazon.
What do you think I did?  Obviously, I bought the battery for 62% more than Amazon's price.  Was it worth it?  Absolutely.  I know that my wife will get more than $20 worth of additional joy from her expensive trip if she can switch out batteries, and I didn't have buying choices.  Do I regret this purchase?  Nope.  When it comes to situations like this (especially if you're married), being cheap and being an intelligent shopper are very different.
Conclusion
Though we all want to get the best price all the time, we need to calculate how to get the best deal all of the time.  Getting a good deal means that you need to consider convenience, time, price, and availability in your decision.  Remember to take a step back before a buying decision and consider your options.  On large purchases, spend a few days giving Russell's Three Tiered Negotiation Gambit a try or wait until a great deal comes along.  When it comes to smaller purchases, budget your money and your time wisely.  By considering your buying decisions wisely, you'll live like a prince on a pauper's dime.