Whether you're buying your first electric shaver or upgrading from an older razor, it can be challenging to choose between the dizzying array of models. This guide will help you decide which features are most important to you and help you narrow down your choices. Whether you're choosing between rotary or foil, wet or dry, or Braun or Norelco, keep reading to find the best choice for you!
Jump Straight to the Recommendations
I like to think that there is a spectrum of men's shaving habits. On one end you'll find badger brushes and "safety" razors. These men take pride in the slow, precise, and therapeutic qualities of a close shave done right. On the other end, you'll find men who have given up on shaving entirely because they find it a hassle (this spectrum does not include men who want facial hair). Most men fall somewhere between these two extremes, but you probably see yourself closer to one side than the other.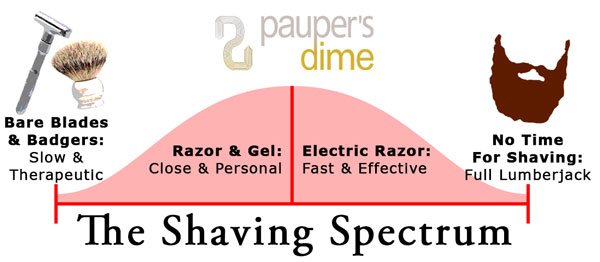 Should You Buy an Electric Razor?
An Argument for Electric Razors
You're a busy guy. A good electric razor is extremely versatile with the biggest advantage being dry shaving. In fact, I find that I get a better shave with my electric razor when my face is completely dry before a shower. However, I can shave anywhere. I can shave at a stoplight, in my office before a meeting, or in the shower. Just as importantly, it only takes a couple of minutes to shave. Without having to take the time to wet your face, lather, and shave in slow strips, you can get the job done in a fraction of the time.
You're tired of razor cuts. While you can still get razor burn with an electric razor, you're much less likely to cut small bumps like zits, acne bumps, or moles. Any kind of shaving can be a challenge for sensitive skin, but I have found that a high quality rotary electric razor can offer many benefits.
An Argument for Standard Razors and Gel
You want a really close shave. Though electric razors have continued to get better, it's still challenging to get a shave that is as smooth and long lasting as a good Gillette Fusion ProGlide Razor, Mach3 Razor, or Mach3 Turbo Razor. These multi-blade razors are able to lift the hairs and even clip the hair a little below the surface meaning that the shave will last longer. Some electric razors attempt to do it as well, but it's hard to beat a good, careful shave with multi-blade razor and a little shaving gel or cream.
You aren't willing to spend a lot of money. Electric razors come in many varieties and at many price points, but most of them are junk. If you want to have a great experience with an electric razor, you'll want to spend a little more to do it right. You will also need to buy replacement shaving heads about once a year. That being said, a high quality, multi-blade razor can quickly get just as expensive if you have to frequently change blades.
The Verdict:
Go with the Electric Shaver
A great, fast shave beats a perfect shave any day!
Though I occasionally still pull out the shaving gel and my Gillette Fusion ProGlide before a date, I rely on my electric shaver every other day of the year. It's fast and effective, and I can use it anywhere.
I strongly recommend electric shavers for busy guys on the go.
How Does an Electric Shaver Work?
Electric razors work more like scissors than standard razors. With your traditional razor, the blade cuts through each hair as it scrapes past. In an electric razor, the blades cut hair when they shear against a metal grating where the hair passes through but skin doesn't. This acts like a lightning fast pair of scissors as it shaves all the hair that passes through the metal grating.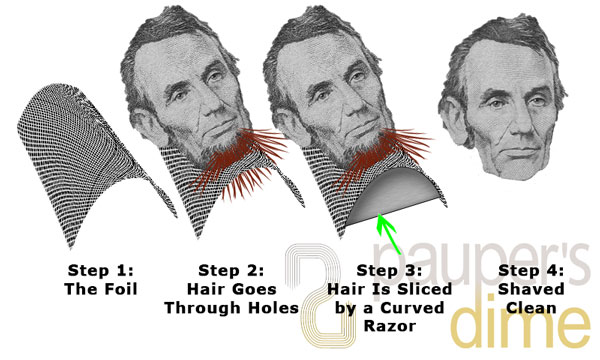 Foil vs Rotary Electric Shavers
You can find electric razors in either a rotary or foil style, but they both work in the same fundamental way described above. The difference is in the type of metal grating used to grab hair. In a foil razor, there are many rounded blades all aligned under a thin foil comb. As the blades oscillate back and forth, they shear the hair that passes through the domed grating. In a rotary razor, blades spin around a central axis in each head and cut hairs that pass through angled slots in the surface of the head.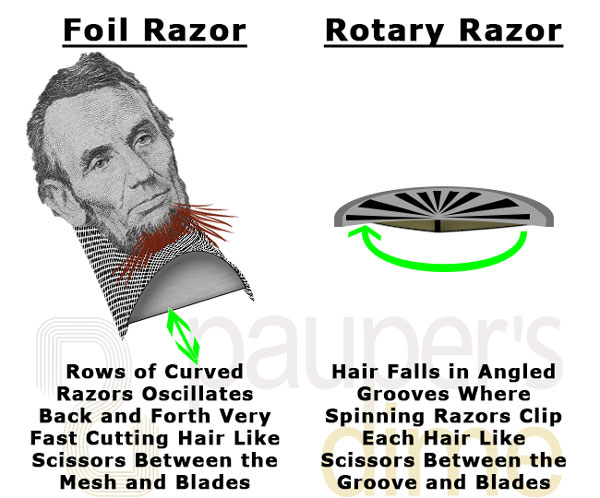 Though they fundamentally work the same way on the inside, foil and rotary razors behave differently.
Foil Razors:
The long, rounded nature of the foil lends itself well to large areas of skin like the top of your head.
If you like the bald look and are looking for a suitable electric razor, you'll want to go with a foil.
Braun currently uses their OptiFoil system in their higher end razors, and this will provide you with a great, close shave.
Rotary Razor:
A good rotary razor with flexible heads is perfect for tight turns like your chin. For the clean-shaven look, you'll want to go with a rotary razor with flexible heads like the
Philips Norelco 7370
.
Note for Sensitive Skin: Some men find that foil shavers are better for sensitive skin than rotary shavers. I have personally found the opposite to be the case, but much of it comes down to style and personal preference. That being said, inexpensive foil shavers are often better than inexpensive rotary shavers. In my opinion, the best option for shaving your face is a high end rotary shaver. If your budget is a little tighter, consider a good foil shaver, and you should find good results.
The Good, The Bad, and The Ugly
The majority of electric razors are junk that will give you bad razor burn and make you regret your purchase. I've worked hard for years to search for the electric shavers that are available to help you find the few really great ones. As you're looking, here are some things to keep in mind.
You'll need some time to adjust. It will take a few tries with your new razor before you feel comfortable, so don't give up if you buy one and you have trouble. At first, you will probably notice that you get razor burn more than you're used to, but this will get much better with time. Stay persistent, and exercise your return policy or trial period (the leading brands offer trial periods) if needed.
Not all electric razors can be used in the shower. Only some of the higher end razors are waterproof. Almost all electric razors are at least water resistant so that you can rinse them off in the sink, but that doesn't mean they're safe to use in the shower. You might be able to get away with it for a while, but you will want to buy a true wet/dry electric razor for good long-term use.
Save Money in the Long Run and Buy the Right Razor First
It's worth the money to buy a good razor. Everyone wants to buy a car with a 500 horsepower that can do 0-60 in 3 seconds, seat the whole family, and get 50 mpg for $10,000. Unfortunately, no car is going to live up to these expectations. Electric razors are the same way.Early electric razors were all expensive and nearly all junk. Now that many of the advancements have trickled down to less expensive razors, the major manufacturers have started introducing really good razors at the top of their lines. Unfortunately, many men buy a cheap one to give it a try, have a predictably negative experience, and never try one of the nice ones.If you buy a cheap electric razor, you will wish you had a better one every time you get razor burn or leave shallow stubble. Why do I feel so strongly about this?
This was me with my first three electric shavers until I finally bought a nice Philips Norelco rotary shaver, and then I was finally happy. I wish I didn't have all of the prior electric razors sitting in a drawer and I had just saved my money to buy a good one the first time.
In a few years, the cheap razors may have the high end features available now, but I wouldn't bank on it. It costs more to make a good razor, and it's worth spending more to get a good shave.
#1 Rule for Buying an Electric Razor
The only part of an electric razor worth worrying about is the replaceable cutting head. If you look carefully, you will notice that
multiple razors at different price points all use the same few interchangeable replaceable heads
. This means that the part that actually does the work and the motor in the razor that drives it are identical between these models, and you are only paying more for the fancy chrome exterior. Unless you want to pay more for the car just because it has lit vanity mirrors, steer clear of more expensive models that all use the same cutting head.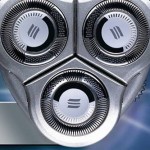 The Pauper's Dime Money Saving Strategy
If you've read this far, you'll know that you want to buy a high end razor, but a lot of the razors are basically the same and use the same cutting head. This means that you really want to buy an electric razor by looking at the cutting heads. As you look at the model line,
buy the least expensive razor that takes the nicest cutting head, and you will get the best bang for your buck
.Here's an example from just the current Philips Norelco lineup:
Cutting Head

SH90/52

RQ12+

/

RQ12

/

RQ12/52

SH70/52

SH50/52

RQ11

/

RQ11/42

HQ8

/

HQ8/52

HQ56

/

HQ56/2

Model Line
Series 9000
8000 SensoTouch 3D
Series 7000
Series 5000
6000 SensoTouch 2D
PowerTouch
6000 Series
Model Numbers

9721 S9721/84

,

9311 S9311/84

,

8900 S8950/90

,

8900 S8950/91

8100 1250X

,

8100 1250X/40

,

8100 1250X/46

,

8100 1250X/47 (Cleaning)

,

1255X

,

1260X

,

8900 1280X/42 (Cleaning)

,

1280X/47 (Cleaning)

,

1280XCC (Cleaning)

,

1280X (Cleaning)

,

1290X

,

8800 1290X/40

7300 S7370/84

,

S7720/90

S5210/81

,

S5210/86

,

S5370/86

,

S5370/81

6800 1190X

,

6100 1150X

,

6100 1150X/46

,

6100 1150X/40

,

1160X

,

1160X/47

,

1160XCC

,

1165X/45

,

1180X

PT734

,

3600 PT734/41

,

3500 PT730

,

PT730/41

,

PT725

,

PT720

,

PT720/41

,

AT880

,

AT830

,

4500 AT830/41

,

AT814

,

AT810

,

4100 AT810/41

6945

,

6945XL

,

6945XL/41
What's so amazing is that Philips actually produces this many model numbers (many of these are the same razor listed multiple times under the silly naming scheme that alternately includes /##), but they only really offer 5 shaving experiences! That is 7.1 model numbers per cutting head!
If you want to get a good deal, find the best sale or lowest price for the best cutting head you can afford with any of these model numbers
.
How to Buy an Electric Razor for Christmas, for a Birthday, or for Father's Day
Unlike many mens toys, there's less real choice in electric razors. Only three companies, Braun, Philips, and Panasonic, are really competitive, and the quality of each of their product lines pretty much goes top to bottom. As I demonstrated earlier with the cutting heads segment, most of the product differentiation comes in the form of chrome. If you're buying an electric razor for a holiday, go with one of my recommendations below, and if you're disappointed, exercise your return or trial privileges.
The Caveat: If you're buying an electric razor as a gift, be sure to buy it immediately before the holiday! If you want your favorite guy to get the full trial period or return period, you'll want the receipt to be dated as closely to the holiday as possible.
100% of the support for these reviews comes through readers clicking on my links.
You pay the same price. I buy groceries.
Thank you for your help!
PHILIPS NORELCO ELECTRIC SHAVERS
Series 9000
Philip's Norelco recently refreshed their men's face electric razor line with lots of what appear to be new models including the Series 9000, Series 8000, Series 7000, Series 6000, Series 5000, Series 4000, Series 3000, and Series 2000 razors. You may be surprised to learn that of all of these razors, only the Series 9000, 7000, and 5000 are new. They literally kept the same model numbers for all of their other razors and only changed the names. This is somewhat surprising given how frequently most consumer electronics refresh. What's even more surprising is how little progress they seem to have made in the new ones. Series 9000 consists of two models, the
S9721
and the
S9311
. These two razors overwhelming resemble the SensoTouch 3D models which have now been rebranded the "Series 8000" consisting of the
Norelco 8900
,
Norelco 8950
,
Norelco 8800
,
Norelco 8700
, and
Norelco 8100
. I believe this signals that rotary shaving technology has started to level out. For a refresh this minor to occur years after the last major release suggests that we are unlikely to see any major releases coming soon. This is a good sign for you as this means that you should feel confident that the razor you buy today will stay current for several years. If you buy a more expensive model like the
S9311
, you will continue to have the latest and greatest for a few years with just an annual head replacement (which costs less than buying cartridges for manual razors).
Bottom Line: If you want a Series 9000, save your money and buy the S9311. It is exactly the same in every way that matters (the same shaving head).
Philips Norelco 7000/8000/9000 Series vs 6000 Series
Important Note: Functionally speaking, all of the 9000 SensoTouch 3D models are the same as each other, all of the 8000 SensoTouch 3D models are the same as each other, all of the 7000 SensoTouch 3D models are the same as each other, and all of the 6000 SensoTouch 2D models are the same as each other. The only real difference is in their exterior finish and battery life. Assuming you don't intend to use your electric razor without any access to power for more than two weeks, battery life differences are irrelevant.
Differences
Positioning: The difference between the 7000/8000/9000 SensoTouch 3D and 6000 SensoTouch 2D models can be found in the flexibility of the shaving heads. Every one of the Norelco models have 3 round shaving heads; however, the 7000/8000/9000 SensoTouch 3D models allow them to move independently of each other. This means that when you shave your chin, the cutting heads will morph around the contour to provide a perfect shave. I personally love this feature, and I think it makes a significant difference. All 3 heads stay together in the 6000 SensoTouch 2D model which is a serious disadvantage.
Cutting Head: The 7000/8000/9000 models include the fantastic UltraGlide cutting heads. On the surface of each head you will find three layers of grooves (rather than one with two types of grates). As each level passes over your skin, the cut gets progressively close. The outer layer deals best with longer hairs, and the shave gets very close and smooth by the time the center layer glides by. All of the other models carry the "Dual Precision" head which is good, but not up to the same level.
Have in Common
Whole Head Positioning: Both lines allow the head itself to bend with the contours of your face. This means that the handle can remain at the same angle while the head turns more precisely with your face. This reduces pressure on your skin.
Wet/Dry: Both of these razors can be used for wet shaving in the shower or dry shaving at a stoplight.
Philips Norelco 6100 vs 4500 PowerTouch with Aquatec and SmartPivot (

4500 AT830

)
6000 SensoTouch 2D Includes:
6800 1190X
,
6100 1150X
,
6100 1150X/46
,
6100 1150X/40
,
1160X
,
1160X/47
,
1160XCC
,
1165X/45
,
1180X
PowerTouch with Aquatec and SmartPivot Includes:
AT880
,
AT830
,
4500 AT830/41
Important Note: Functionally speaking, all of the Norelco 6000 series models are the same; however,
not all of the PowerTouch with Aquatec models are the same. This section only considers the models that have "SmartPivot."
Differences
Styling: The 6100 looks a lot sexier.
Pivoting: The 6100 can roll the head in any direction as you shave, and this helps to reduce the pressure on the ridges of your face. The PowerTouch SmartPivot models allow the head to pivot back and forth like a teeter-totter. This also helps reduce pressure on the face, but it only goes back and forth in one direction.
Similarities
Cutting Head: Both shavers use the same dual precision head which helps to cut long hair as well as short stubble. The actual head isn't interchangeable, but the shaving part is the same.
Flexing: The three heads will pivot inward to allow for small ridges and points on your face. Every model Philips makes (except the 6000 series) has this functionality.
PowerTouch with Aquatec and PowerTouch without Aquatec (Aquatec = Wet/Dry)
Philips also makes razors with the dual precision heads (same cutting head as the 6000 SensoTouch 2D and the SmartPivot models) that don't move back and forth. They still pivot toward the center, but the entire head does not move back and forth.
A Note on the PT720 a.ka.

PT720/41
This razor falls in the junk category. It doesn't even come with the right cutting heads! Fortunately, you can replace the heads to use the real
HQ8
heads found on the better models. This model also doesn't include a trimmer. Spend a few more dollars to buy the 3500 PT730 instead.
Norelco 6945, 6945XL, and 6945XL/41
Top Recommended Philips Norelco Electric Shavers
I have been in the business of reviewing and recommending electric shavers for four years, and one of the hardest parts of the work has been convincing men to spend the extra money to buy a really good razor the first time. After they buy an inexpensive razor that doesn't work well, they either end up buying the nice razor they should have bought the first time or throwing out their electric razor for good. The Philips Norelco S9311 is the best electric razor ever made in my opinion, and I can't recommend it highly enough. If you can spend the 20% premium over the S7370, you will be glad you did. This razor will give you the smoothest shave with the least irritation every time.
When a manufacturer creates a product only for distribution during sales or online, it's usually a reason to be concerned. You won't easily find the S8950 on Philip's website, and it seems to only be available through Amazon. That's the bad news. The good news is that they've built a razor at a lower price point that takes the 9000 series shaving heads. It's a wet/dry razor that you can use in the shower, and it even includes a beard trimmer! My guess is that Amazon pushed Philips Norelco to release their top shaving performance in a better priced package, and they did. This razor includes all of the best features of the top of the line shavers (most importantly – the same shaving head – which is all that matters) for an unbeatable price.
I used this razor's predecessor every day for years, and this replacement is even better. This is a top notch razor, and I highly recommend it to friends and family. This is an especially smart choice for men with sensitive skin. The separately flexible heads make a big difference on your face, and the styling fits perfectly in your hand. I have previously owned several other shavers by both Philips and Braun, and there is no contest that this is the best shaving experience for this price. If you're having a hard time deciding, just buy this one.
If you're looking to spend a little less and still get a great shave, the
AT830
is a solid blend of features and shaving heads. If you aren't willing to spend a lot of money on an electric shaver (like the 8000 SensoTouch 3D), then the 6000 SensoTouch 2D doesn't have enough added features over the
4500 AT830
to justify the extra expense. They both have Aquatec sealing which will let you use it with a shaving gel or in the shower, and they both use the dual precision cutting heads. You may still want to keep setting aside money for an S9311, but this razor will take good care of you in the meantime.
I would be grateful if you would consider making your purchase through one of the links on this page. You'll pay the same price, and you can help me make a guide for your next purchase!
Best Shavers on the Market:
9721 S9721/84
,
9311 S9311/84
,
7300 S7370/84
Great Shavers:
8100 1250X
,
8100 1250X/40
,
8100 1250X/46
,
8100 1250X/47 (Cleaning)
,
8900 1280X/42 (Cleaning)
,
1280X/47 (Cleaning)
,
1280XCC (Cleaning)
,
1280X (Cleaning)
,
1290X
,
8800 1290X/40
Good Shavers:
6800 1190X
,
6100 1150X
,
6100 1150X/46
,
6100 1150X/40
,
1160X/47
,
1160XCC
,
AT830
,
4500 AT830/41
Decent Shavers:
AT814
,
AT810
,
4100 AT810/41
Don't Buy:
3500 PT730
,
3500 PT730/41
,
PT725
,
PT720
,
PT720/41
,
6945
,
6945XL
,
6945XL/41
,
YS524/44
,
YS524/41
Don't bother buying an electric razor without water sealing. Razors with "Aquatec" don't cost that much more, and you'll be glad to have a razor that is more versatile and can be more easily washed.
Buying a Panasonic Electric Razor or Remington Electric Razor
If you're looking to buy a less expensive electric shaver, please look at the mid-range offerings by Philips Norelco and Braun. Panasonic shavers and Remington shavers are simply not going to perform at the same level as the models reviewed on this page. While Panasonic is considerably better than Remington, both leave a lot to be desired. You will find excellent reviews for both online, but you need to consider that those reviewers are very unlikely to have used newer, high-end models made by Philips Norelco or Braun. Even though you might save some money upfront, I hope you'll take the time to read the recommendations on this page before you decide.
A Note on Online Razor Reviews for Entry-Level Razors
Reviews on entry-level razors have a strong bias because few people who buy a cheap razor have ever owned a nice one. As their first experience with a fast, dry razor, they will see lots of positives, but you simply can't realize how bad they are if you've never tried a quality electric shaver. Tellingly, many of these reviews are still bad. This underscores just how awful entry-level electric shavers are!
BRAUN ELECTRIC SHAVERS
Braun has a fairly straightforward product line. They make four shavers, and each one has upsell versions with a fancier screen or accessories. In other words, they make four electric shavers despite all the models you might come across.
Braun's Series

Series 9

Series 7

Series 5

Series 3

Amazing

Great

Good

Junk
Braun Series 9 – The Fully Loaded Lexus
There's a lot of money in the high-end electric shaver market, and Braun wants to take as much of that market as possible. Their trouble is that they already positioned the Series 7 razors as the best available, and they haven't backed down on that position. This makes it really hard to tell their features apart, so I'll do my best to help you out. If you're looking for the best shave from a foil, the biggest difference is that Braun created a more maneuverable head for this series that is optimized for denser or longer beards. Similar to the independently moveable heads on the high-end Norelcos, Braun has now added the ability for the shaving heads to pivot right and left while the entire head moves backwards and forwards. This is a noticeable improvement because it allows the shaver and your wrist to work together to cover all of the contours of your face. If you can find the little bit of extra money to buy this one, you should definitely consider buying Braun's
9090CC
if you're going with a foil shaver.
Braun Series 7 – The Lexus
This is a very technologically advanced razor designed to give a close shave, even when hairs aren't standing up, using their "Pulsonic" micro-vibration technology. They have put in a significant engineering effort to get the most out of a foil shaver, and you won't be disappointed. If you've been thinking about buying a foil razor, and you don't need the flexibility that the Series 9 provides, just buy a Braun Series 7. They are so good that they are hard to critique!
Note: Pricing is very unusual on these models.
MSRP is very different at
790CC
($270),
760CC
($240),
720S
($200), but they all seem to retail at about $200 (or $150 on sale). Make sure to check out all the models before you make your purchase!  Braun razor models ending in "CC" come with the Clean & Renew cleaning system.
Braun Series 5 – The Toyota
This razor offers almost everything available in the Series 7 but costs a little less. This is a solid choice, and you will get solid results. It doesn't offer the flashy power of the Series 7, and it might get quite as close of a shave, but it won't disappoint.  Fortunately, Braun included the ActiveLift system on the Series 5 like they did on the Series 7, so this narrows the difference between them considerably.
Braun Series 9 vs Braun Series 7 vs Series 5
If you're wanting to do something nice for yourself or you're buying a gift, go with the Series 9. The top-notch performance will win you or your favorite guy over, and the luxury will last a long time. If you're buying it for yourself, and you're just looking for a functional shave, the Series 7 will do a great job, and you will save a little money.
Braun Series 3 – The Car You Inherited from Grandma
This model will get you where you need to go, but it's not particularly flashy. It's not particularly good either. Underpowered, noisy, and inadequate, you'll be looking to buy a new one before long. Save your money a little longer to buy a Series 5/7 or go with the Philips Norelco 4500 AT830 for a similar price. You'll be glad you did.
Top Recommended Braun Electric Shavers
If you prefer a foil shaver to a rotary, you have had to compromise on maneuverability. Braun has finally fixed this with the introduction of their pivoting heads and floating foils on the Series 9. The 9090CC deserves credit for combining the flexibility of the top-of-the-line Norelcos with their advanced foil technology.
For the foil razor lovers out there or those with very sensitive skin, look no further. It's powerful, good looking, and effective.
If the 760CC is out of your price range, but you're still looking for a great shave.  The 550CC will do everything you need.  It's not quite as luxurious as its big brother, but it has the power and the technology you need to get a close shave.
Philips Norelco and Braun Head to Head
---
Top-of-the-Line Comparison:Philips Norelco 9000 Series vs Braun Series 9
I would have to say that I prefer the Norelco S9311 over the 9090CC. If you're looking to shave your head, I would recommend the Braun Series 9. The large, smooth areas on your scalp will do very well with a foil shaver, and the Series 9 is the way to go. If you're shaving your face, a rotary razor does an unbeatable job navigating all of the contours, and the S9311 is the best rotary shaver ever made.
---
Top Performing Mid-Range Comparison:Philips Norelco S7370 vs Braun 760CC
There has never been a better time to buy an electric razor. Over the past few years, the major players have gotten much more competitive in their offerings, and they have been putting their best features in their mid-range offerings. Just a few years ago, only the top-of-the-line shavers really delivered a good shave. Today, there are very solid offerings by both Philips Norelco and Braun, and the prices have actually come down substantially (by as much as 40%) across the board. Whether you buy a Philips Norelco S7370 or a Braun 760CC, you will get a better shave than the most expensive razors of a few years ago.
Winner: Tie Between Two Excellent Choices
---
Entry-Level Comparison:Philips Norelco PowerTouch 4500 AT830 vs Braun Series 3
There is no comparison here. The Philips easily wins this race. Buy a PowerTouch with Aquatec
4500 AT830
, and you will be very glad you did.
---
The Cleaning System
Rating:

Don't Buy
My first exposure to a cleaning system for an electric shaver came when I was over at a friend's house as a kid. I saw a sweet looking electric razor in its cleaning system, and I thought it was one of the manliest, coolest things I had ever seen. With the razor's smooth lines and the foreboding box of the cleaning system, I knew I wanted to have one of these one day. I now have one, and I never use it. It currently sits in the original box with a half empty bottle of cleaning solution (the one that came with it), and I have since realized that it isn't worth any extra hassle. A good electric razor is well enough designed that it can be easily cleaned with water every few shaves. Think about it this way. If this was such a vital component, why doesn't every razor come with one? The truth is that they are sexy upsells, but they cost money to use (overpriced cleaning solution) and are unnecessary.
Fake Electric Razors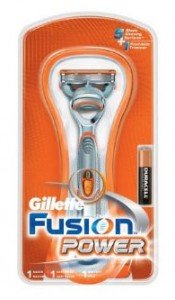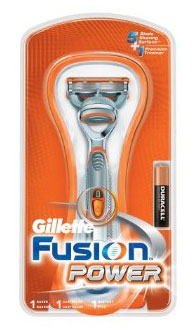 Rating:

Don't Buy
For some inexplicable reason, traditional razors have started getting batteries and shaker motors. Steer clear of these! I'm looking at you, Gillette M3 Power Razor, ProGlide Power, and Fusion Power. If you look online for reviews, you will find 5 star ratings calling these battery powered razors the greatest razor ever made. You are welcome to go with these reviews, but you will quickly find your new razor eating a hole in your pocket as you pay $35/8 count box (MSRP is $55!). Sure Signs of a Gimmick:
They only take specialized cartridges that cost more, even though there is no evidence that they are different from the standard cartridges.
People have been shaving without dying of razor burn for hundreds of years, and there have been claims about every new razor release for decades that "finally this new razor works perfectly close and without razor burn."
The quality of a shave is mostly dependent on the operator. If you want a perfect shave, you can get it today with a standard Mach 3 razor. Buy a nice shaving gel, and slowly work it into your skin. Then wait a few minutes for it to soften the hairs and moisturize your skin. Then very slowly and carefully, work the razor around all of the contours of your face in short and precise motions. Lather and repeat. After your shave, apply a top shelf aftershave and relish in the results! Shaving is largely about technique, not a more expensive traditional razor with a shaker motor.
Gillette is more of a marketing company than a technology company, and they work very hard to sell more expensive razors to consumers as they stand in the convenience store aisle. There is nothing wrong with this, and they are very effective at upselling their customers. That being said, I don't want my readers to get ripped off. Fusion ProGlide Power razors cartridges cost less than 10 cents to manufacture, but they charge almost $5/blade in a 4 pack for the power version. Read
this fantastic article in the UK's DailyMail
.
The Verdict:
If you want an electric experience, stick with real electric razors. For the price of a Gillette M3 Power razor with replacement cartridges over the course of a year or two, you could have easily purchased a high end electric shaver and a replacement head. They cost more upfront, but you'll be glad you made the investment.
I would be grateful if you would consider making your purchase through one of the links on this page. You'll pay the same price, and you can help me make a guide for your next purchase!
Russell C